Welcome to the new series I'm starting called "Thursday Round-Up"! I am constantly finding, reading and hearing about new things, most of which I don't really feel like I can dedicate an entire blog post to, but that need to be shared somehow. So every Thursday, I'll be rounding up a few of the things that have caught my eye recently and sharing them with you!
1.
Project 7
// The last time I stopped in a grocery store besides Trader Joe's (it really doesn't happen often since TJ's has everything you could possibly need), I saw this little green and white package on the rack of gums, candies, etc. The quirky writing instantly intrigued me and so I had to pick it up. Once I read the message, I was locked in. Project 7 is a company that uses a portion of their profits to give back to communities in multiple ways. My gum pack for example? Ten fruit trees were planted because I bought it. Doesn't that make you feel incredible?? Check out their website for more details, they have
a whole slew of beneficiaries
, from the environment to the homeless to the hungry. I can't wait to buy more of their products!
2.
Chicago Council on Global Affairs
// I just recently got a membership to this organization, and as a student, is it quite a steal. For $40, you get access to a slew of free events, including talks from high-ranking officials. Maybe I'm just a sucker for hearing important people talk, but it never hurts to learn more about our nation and world!
3.
John Mayer Playlist
// I've been in the mood for John Mayer pretty much everyday as of late. It might be the chilly weather that makes me want to curl up in my bed with hot tea, a good book and some mellow music. Winter always seems to bring out my acoustic-music-loving side.
5.
These Hunter Packable Boots
// With my track record of traveling, and the fact that I'm currently living between my home and my apartment, these little guys would be the perfect addition to my wardrobe. Boots are always in season in Chicago and the pop of red is so appealing - love it!
6. Everything in the
Evelyn Hanson Etsy Shop
// I got a print from Evelyn Hanson for my French host sister for Christmas, and I was SO impressed with how fast she had it done and shipped to me - usually custom orders take a lot longer! I'm especially obsessed with her
Bar Cart Collection
right now.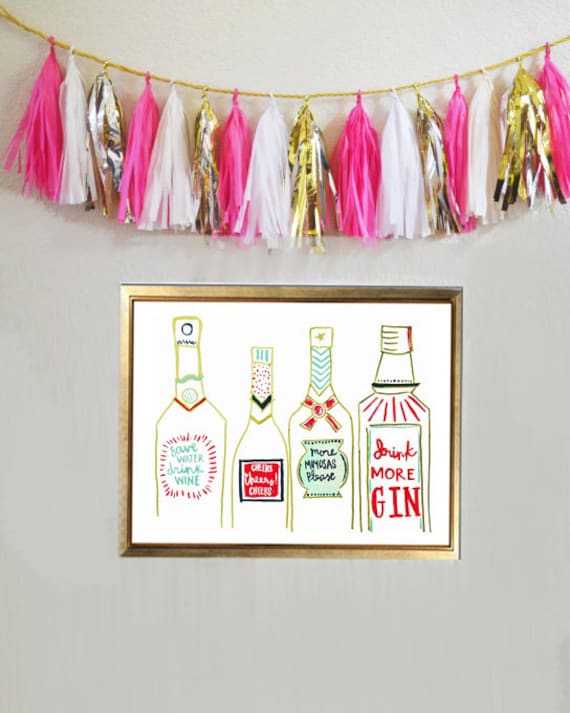 7. Wanderlust // After facing below-zero weather for the past month, how could I not reminisce on my summer adventures when the only enemy was humidity? I'm really missing Istanbul and its perfect temperatures. Ahh.
Cheers to the weekend!
What have you had your eye on lately?
XOXO,
Em